Description
Cet article est aussi disponible en: 日本語 English
Preface by Kotaro Fukuma
St. Matthew Passion is not only a masterpiece by Johann Sebastian Bach but also one of the most important works in the history of Western music. The work is based on the Passion of Christ of the Gospel of Matthew in the New Testament and consists of 68 small pieces. It takes about three hours to play the entire work and this aria Erbarme Dich, mein Gott is the most popular piece of the work.

This aria reflects Peter's solitary heartache after he denies knowing Jesus three times. The original was written for alto solo with a beautiful interaction with the violin. Since the ranges of these voices are close and often overlap each other, in my transcription I sometimes have lowered the accompaniment part and the singing part by one octave on purpose. In addition, while respecting the original score as much as possible, I occasionally use one of the voices as a suspension or appoggiatura and add trills to decorate the melody. Some of you may notice that some modifications have been made after I recorded this piece in October 2020. If you find some parts too difficult to play because your hands are not large enough, it is recommended that you play the melody line as natural as possible. Also, it would be good for you to play the accompaniment a little earlier in order to prevent the sound from being mixed and muddy when using the pedals.

Now, I would like to mention how I came to arrange this aria for the piano. In 2007 when I planned on giving a lecture concert about a great Japanese composer, Toru Takemitsu, I did some research on him by reading various reference materials related to him. In my research, I learned that Takemitsu loved this aria and played it on the piano to cleanse his mind before he started to compose a new piece. Also, on the day before his death, he happened to hear St. Matthew Passion on the radio in his bed at the hospital. Impressed by that story, I immediately thought of arranging the aria into a piano piece and did that. Therefore, whenever I perform this transcription, I feel the presence of Takemitsu. I also see a curious coincidence in this publication of my transcription in 2021, which is exactly 25 years after his death. Finally, I would like to express my gratitude to the people concerned for the opportunity of publishing this transcription.
---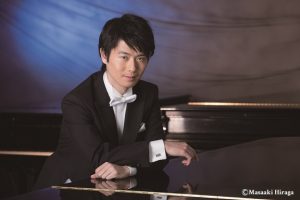 Kotaro Fukuma
Born in Tokyo, Kotaro Fukuma began learning piano at the age of five. In 2003, at the age of 20, Kotaro won both First Prize and the Chopin Prize at the 15th Cleveland International Piano Competition. Since then his concert career has developed on five continents. Kotaro has performed in major concert venues, including Carnegie Hall and Lincoln Center, New York City; Wigmore Hall, London; Philharmonie and Konzerthaus, Berlin; Gewandhaus, Leipzig; Salle Gaveau, Paris; Victoria Hall, Geneva; Auditorio Nacional, Madrid; Forbidden City Concert Hall, Beijing and Suntory Hall, Tokyo. His performances with orchestras include the Cleveland Orchestra, Moscow Philharmonic, Israel Philharmonic, Finnish Radio Symphony, Dresden Philharmonic, Orchestre National du Capitole de Toulouse, Japan Philharmonic and NHK Symphony Orchestra, under the direction of such conductors as Yuri Simonov, Rafael Fruhbeck de Burgos, Juanjo Mena, Asher Fisch, Hannu Lintu, Francois-Xavier Roth, Tugan Sokhiev and Kazuki Yamada. He studied music at the Conservatoire National Supérieur de Musique de Paris with Bruno Rigutto and Marie-Francoise Bucquet, then at the Universitat der Kunste Berlin with Klaus Hellwig and at the International Piano Academy Lake Como in Italy. Since July 2020, Kotaro has been producing a concert series "Rare Piano Music", in which he presents Japanese pianists with rare piano repertoire.