Description
Cet article est aussi disponible en : 日本語 English
Foreword by Masaru Hayakawa
Sonatine pour le piano was composed in 1955, when Shōkō Maita graduated from the composition department of Elizabeth Junior College and became an assistant composer at the school. It was premiered by the composer himself at a concert in the college. This is Maita's only work for the solo piano, except for variations of Japanese and Chinese national anthems (Kimigayo Paraphrase and Chinese Rhapsody) and some cinema music which he wrote under the pseudonym of Toru Fuyuki. According to the author's own words, the Sonatine is a work during the time when he indulged in music of Ravel. It consists of 3 movements. The 1st movement, Allegretto Grazioso, is in sonata form with a floating theme which is reminiscent of impressionism. It is interesting that the theme in the development has an aura of Japonism because of the Japanese scale. The 2nd movement, Allegro Moderato, is a light movement and is reminiscent of lotus leaves swaying on the water. The sound of the introductory "B-D-C" can be heard as a play song. The 3rd movement is Vivace. Like the ripples of the rain falling on a pond in a Japanese garden, the delicate passage develops minimalistically and completes the piece.
---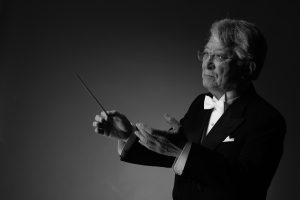 Shoko Maita was born on March 13, 1935 in Manchuria. He graduated from the Faculty of Composition and Religious Music at the Elizabeth College of Music and from the Faculty of Composition at the Kunitachi College of Music. Mr. Maita studied composition with Komei Abe, Kosuke Ichiba, and Saburo Takata. In 1956, he began his association with Radio Tokyo (currently TBS) in sound effects and also made his debut as a composer in the radio drama Music Box and the TV drama Kurama Tengu. After leaving Radio Tokyo in 1961, he worked on many Ultra series film music scores such as Ultra Seven and Returned Ultraman. The theme music, commonly known as Wandaba, which was used for the first time in Returned Ultraman and has an impressive male chorus with a brave and exhilarating feeling, had considerable influence on the subsequent series and is one of the most famous themes that represents Tsuburaya Sound. With his real name, Shoko Maita, he also released hymns, choral songs, and organ works. Beginning in 1964 he taught for 33 years at Toho Gakuen University Faculty of Music, Department of Music Theory. He is a member of the Japan Gregorian Choir Society.