Description
Cet article est aussi disponible en: 日本語 English
Preface by Farhad Poupel
I was thrilled when Kotaro Fukuma approached me to write a solo piano piece relating to Bach. So I've decided to write this piece, which is a love letter to the great Johann Sebastian Bach, who is, as Debussy has said: "a benevolent god to whom all musicians should offer a prayer to defend themselves against mediocrity".

Most pieces written in homage to Bach have emphasized his contrapuntal mastery but I wanted to emphasize something else in this piece, his dramatic and structural use of harmony and tonality and his elaborate melodic lines. He elevated the tonal language of his predecessors to an unprecedented level, and the interesting fact is that there were no harmony courses at that time, so he discovered his language only by using his voice leading skill, his hands, and his ears.

With that in mind, I've started the piece, trying to make the piece move by its harmonies, with the same delays and resolutions but with modern harmonic language and unusual voice leading. This dark section with its elaborate melody starts with a motive that is from a Persian mode called Chahargah and develops with some sort of unconventional two-part, pseudo-fugato texture (which again, the emphasis is on chordal sonorities) reaches to a climatic dissonance and then gradually transits to a much calmer central section with more conventional harmonic and voice leading idiom. This section uses the first phrase of the famous choral "O Welt, sieh hier dein Leben", that had been used by Bach in several of his compositions and reaches the climax of the whole piece with the returning of the materials from the development section and then the two main themes reach a calm union in the coda.

This piece has a two-layer structure. The underlying structure is moving from darkness to light. The other one, inspired by Bach's Cum Sancto Spirito from his B minor mass, is a symmetrical structure that reaches its central section with the calm, choral section. I was thinking about someone who reaches an impasse in their life but through a journey to Bach (imagined in the central section) reaches a spiritual fulfillment, the darkness tries to crack after that, but it fails and actually both light and dark are fused together in a harmonious whole.

After I had listened to Kotaro Fukuma's playing, the first thing that I've noticed is his superb control over nuances of color. This astonishing trait inspires me so much that you can see it in the whole piece. For example in the coda, the two voices are to be played as if they're from different instruments at a distance.
---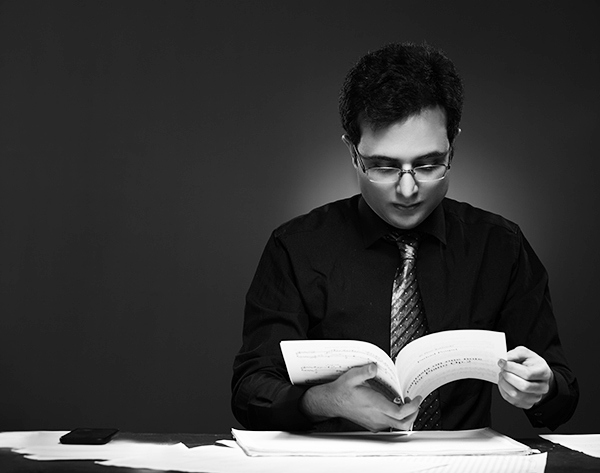 Farhad Poupel
He is described as "knowledgeable, highly competent and a serious musical thinker. It will be rewarding to follow his progress" (Simon Mundy, International festival review) and his music is described as ".. Immediately captures the audience's attention. Whether ethereal or intense, the harmonies and melodies are fused with love, passion, and colorful sonic landscape.."(Jeffrey Biegel, American Pianist)
Born in Isfahan, Iran, his music has been performed and will be performed in numerous prestigious concert halls and festivals throughout the world Such as Suntory Hall in Tokyo, Japan; La Roque-d'Anthéron Piano Festival, La Roque-d'Anthéron, France;Biarritz Festival, Biarritz, France; Stoller Hall, Manchester, UK; Janacek academy of music and performing art, Brno, Czech Republic; Karlskrona International Piano Festival, Karlskrona, Sweden; by distinguished artists such as Kotaro Fukuma, Peter Jablonski, Daniel Grimwood, Margaret Fingerhut, Catherine Carby, Kristýna Znamenáčková, Jeffrey Biegel, Jean-Francois Bouvery and orchestras such as Windsor Symphony Orchestra or broadcasted on the NPR Radio 4, Netherland. His music received critical acclaim worldwide which led to commissions such as Road to Bach for piano by Kotaro Fukuma and The Legend of Bijan and Manijeh for piano, choir and orchestra with Jeffrey Biegel, to be premiered by Windsor Symphony Orchestra. At the age of nine, Mr. Poupel commenced his musical journey by studying the Persian Dulcimer (Santur). Soon thereafter, he began piano lessons under the tutelage of his Amin Savabi and finally studied Harmony, Counterpoint, and composition with the great Iranian composer, Saeed Sharifian privately for 5.5 years. After a brief gap between his studies (about 6 months), he launched his international career by Zayande-Rud for string orchestra which has its first professional performance by Windsor Symphony orchestra in Canada, and his music has been demanded throughout the world ever since.