Description
Cet article est aussi disponible en : 日本語 English
Arrangements of Nielsen's early piano pieces for clarinet accompanied by piano
These 6 short lovely pieces are suitable for education and concerts
Recording by David Schifrin is also available via Spotify, Apple Music, etc.
Table of Contents
1. GODDAG! GODDAG! (Hello! Hello!)
2. SNURRETOPPEN (The Spinnig Top)
3. EN LILLE LANGSOM VALS (A Little Slow Waltz)
4. SPRAELLEMANDEN (The Jumping Jack)
5. DUKKE-MARSCH (Doll's March)
6. SPILLEVAERKET (The Musical Clock)
Preface by Steve Cohen
While attending the Juilliard Prep School as a piano student in the mid-1960's, my regular teacher was on leave and they brought in a teacher for a year who was wonderful young Danish pianist and a fellowship student at Juilliard. He was an inspiration to me. It was a seminal experience for me and forever transformed my life. He was the first teacher that truly inspired me to seriously consider pursuing music for a career. I became enamored of the music of Carl Nielsen during this time as he introduced me to numerous works by Nielsen. As a clarinetist I also knew about the clarinet concerto but these piano pieces were the first I learned. I have loved their simplicity and childlike nature ever since. Perhaps he had his own children in mind when composing this work. About 20 years ago I decided to see if it would be possible to play them on clarinet with piano accompaniment and actually first performed them in Copenhagen at that time. They are mostly simple, little, childlike pieces that I believe are quite charming and fun to play. Each movement has its own unique character from the simply put "Hello, Hello" to the ending "Musical Clock". It is a wonderful combination of lyricism and some virtuosity on the clarinet that has become a favorite piece for me now as well. I dedicate them to Peter Weiss, in whose memory I transcribed them.
---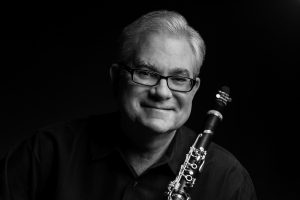 Steve Cohen
Active as both a soloist and chamber performer throughout the U.S. and around the world, Steve Cohen is the former principal clarinet and frequent soloist with the New Orleans Symphony, later known as the Louisiana Philharmonic. Cohen joined the New Orleans Symphony in 1975 and remained as principal clarinet with its successor, the Louisiana Philharmonic, through May 2004. He was featured as concerto soloist with that orchestra many times and has also been featured as concerto soloist at the Brevard Music Center, where he has played and continues to play principal clarinet each summer since 1979. In the summer of 2016 he was featured as soloist in John Adams' Gnarly Buttons at the Brevard Music Center. In the summer of 2010 and 2019, he was featured as soloist on the Copland Clarinet Concerto with Keith Lockhart and the Brevard Music Center Orchestra. He has toured in the U.S. as principal clarinet with the Texas Opera Theater and throughout Europe as principal clarinet with the Seoul Philharmonic Orchestra. He returned to Korea to be a guest artist and master class clinician at the Seoul Philharmonic's Clarinet Festival in 1998. He maintains an active yearly solo, chamber music, and master class schedule and has performed solo recitals and master classes throughout the U.S., Canada, Europe, Korea, China, Taiwan, Bangkok and Japan. He performed at the ICA conventions in several cities, including in Porto, Portugal in August of 2009 and was guest artist and teacher at the International Music Course in Guimaraes, Portugal, returning in September of 2011. Moving to Chicago in 2005 to become clarinet professor and coordinator of the winds, brass and percussion at Northwestern University he has played as principal clarinet with the Music of the Baroque orchestra, has played on numerous occasions with the Chicago Symphony including on Eb clarinet. He has also played with the Chicago Lyric Opera orchestra, and as a chamber musician throughout the Chicago area and beyond. His many collaborations include the Lincoln Quartet, the Miro Quartet, the Dempster St. Pro Musica and the Chicago Chamber Musicians.. He performed in February 2015 as guest soloist with the Hendersonville Symphony Orchestra in North Carolina and also was recently in Tokyo and Osaka, Japan with a tour of master classes and recitals in the fall of 2014. He has guest taught at the Oberlin Conservatory, University of Southern California, and Indiana University. Previously on the faculty of the Cincinnati College-Conservatory and Louisiana State University, he is an artist/clinician for Buffet clarinets and a Legere reed artist. For 2015-16 he was also Visiting Professor of Clarinet at the University of Texas at Austin in addition to his Northwestern duties and has performed most recently with the Miro Quartet on their series there as well as on the Friends of Music series in New Orleans in April of 2018. He hosted the 2001 International Clarinet Association Convention in New Orleans and has written many articles for the magazine for this organization. New York City born to a Juilliard trained clarinetist, his teachers have included, Loren Kitt, Larry McDonald, Karl Leister and Robert Marcellus.