Description
This post is also available in: 日本語 Français
Pianist Dan Sato is fascinated by the arranged works for the piano and plays a number of unknown arranged works. He received a great deal of attention at the world premiere of Daphnis et Chloé composed by Ravel and transcribed for piano solo by Vincenzo Maltempo. (The transcriber himself said, "It's so difficult that I don't plan to play this arrangement in the future"). Inspired by that, Dan started the arrangement of Ravel's Introduction et Allegro and finally completed it after two and a half years. After learning that Lucien Garban had already transcribed Introduction et Allegro for piano solo, Sato was a little disappointed that he was not the first arranger. However, he succeeded in creating Ravel's "new piano work" by incorporating many of Ravel's original piano writing styles found in Ravel's music.
Performance by Dan Sato himself

Introduction by Dan Sato
The idea to create my own solo piano transcription of Introduction and Allegro was born in the summer of 2017 when I first discovered Ravel's own adaptation for two pianos. As I listened, it was my impression that one could potentially play both parts simultaneously with a judicious arrangement between two hands. I had only known the original composition for a short while at that point and was enamored with its attractiveness. As a commissioned work to showcase Erard's newly-invented pedal harp in 1905, it not only exploited the instrument's virtuosic and expressive potential but also represented Ravel's mastery of compositional design. Based on only a few simple motifs, one is entranced by the magical series of transformations and counterpoint that are beautifully shared among the harp, flute, clarinet, and string quartet.

Having premiered Vincenzo Maltempo's incredible solo transcription of the Second Suite from Daphnis and Chloe in 2016, I was confident (or audacious?) in creating an effective version that could satisfy both pianists and admirers of the original work. Shortly after I began toying with the idea, however, I found a solo version in existence by Lucien Garban and I admittedly felt pleased about someone already finishing the hard work! Such relief was short-lived as I quickly began noticing my needs to 'dress up' the modestly expressed pianistic translations; a process which continued until I had essentially re-written the majority of the score. It was not my intention to cram as many notes of the full score or the two-piano score but to utilize my prior knowledge of Ravel's pianistic idioms and find a balance between acoustical and textual fidelity and technical pragmatism.
---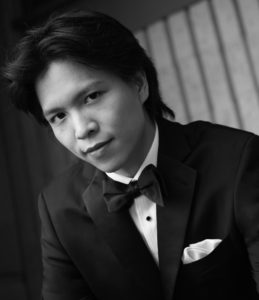 Dan Sato
Fueled by a mad, yet pure, love for the art of piano-playing, Dr. Dan Sato enjoys a colorful career as a concert artist, scholar, educator, and chamber musician in high demand. His passion for the repertoire can be seen in his eclectic programs encompassing the canon, neglected works, and freshly-born compositions that are rendered with "exuberant spontaneity, deep conviction, and serious compositional understanding." Even the most avid recital-nappers have commented on their inability to sleep through Dr. Dan's performances, and he owes all such praise and successes to his dear teachers and mentors, including Chieko Munakata, Peter Coraggio, Frank Heneghan, André Watts, Judith Burganger, and Kevin Kenner.
Over the years, he has been rewarded with ovations at the New Orleans Piano Institute, Brevard Music Center, Chautauqua Music Festival, Rebecca Penneys Piano Festival, Garth Newel Music Center, ArtsAhimsa, and Taconic Music's Summer Festival. Other appearances include the Elmar Oliveira International Violin Competition and the Castleman Quartet Program as one of their official pianists, and he has served as an artist-faculty member of the Perlman Music Program.