We are delighted to announce our new publications for January 2023. Pre-orders will be accepted from today. In a few weeks, we will start pre-ordering the digital edition(PDF) shortly. We will start the sales and shipping of these sheet music on January 25, 2023.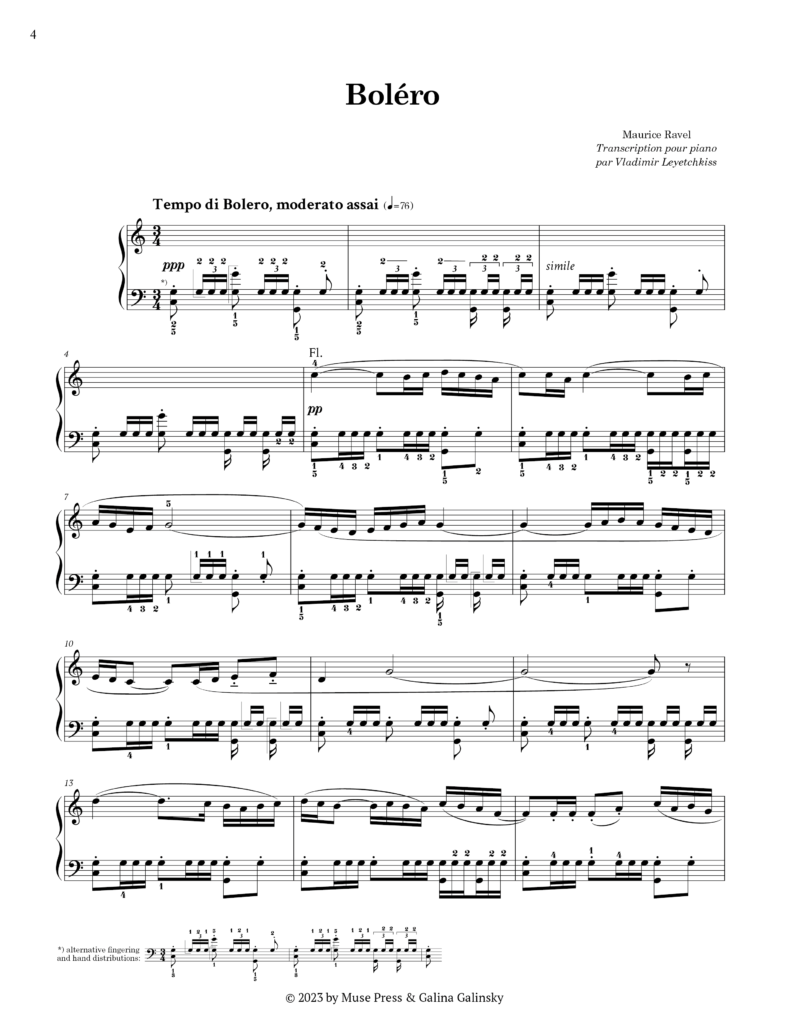 Maurice Ravel/Vladimir Leyetchkiss: Bolero (Transcription for piano solo)
Vladimir Leyetchkiss, one of the last students of the great master Heinrich Gustavovich Neuhaus, was active as a teacher and performer mainly in the United States, but was also well known as an arranger. His solo piano version of Stravinsky's "The Rite of Spring" (Schirmer) has been performed by many pianists. Although Leyetchkiss' arrangements are highly effective in performance, the scores of his arrangements other than "The Rite of Spring" are out of print or unpublished, and despite the hopes of many pianists, they have been extremely difficult to obtain. In addition, the death of Leyetchkiss in 2016 seemed to have made publication of his arrangements impossible. However, with the help of pianist Sandro Russo, a project to publish his arrangements has been launched with the permission of Leyetchkiss' family. As the first volume of this project, Muse Press will publish the score of "Bolero" composed by Ravel and arranged by Leyetchkiss. This arrangement was premiered in Japan on June 20, 2021 by pianist Takuya Otaki, raising many requests for its publication.
Foreword by Sandro Russo
Leyetchkiss's pianistic model for this solo-piano transcription seems indeed to be Ravel's two-piano version of Boléro; however, as the piece progresses in intensity and instrumental mass, Leyetchkiss adheres more to the orchestral score. For instance, as far as the rhythmic ostinato is concerned, that which Ravel had cleverly simplified as broken octaves and tremolos in the two-piano version, Leyetchkiss lavishly exploits as fast octave repetitions and Alkanian chords ; both require the wrist endurance of a virtuoso technique.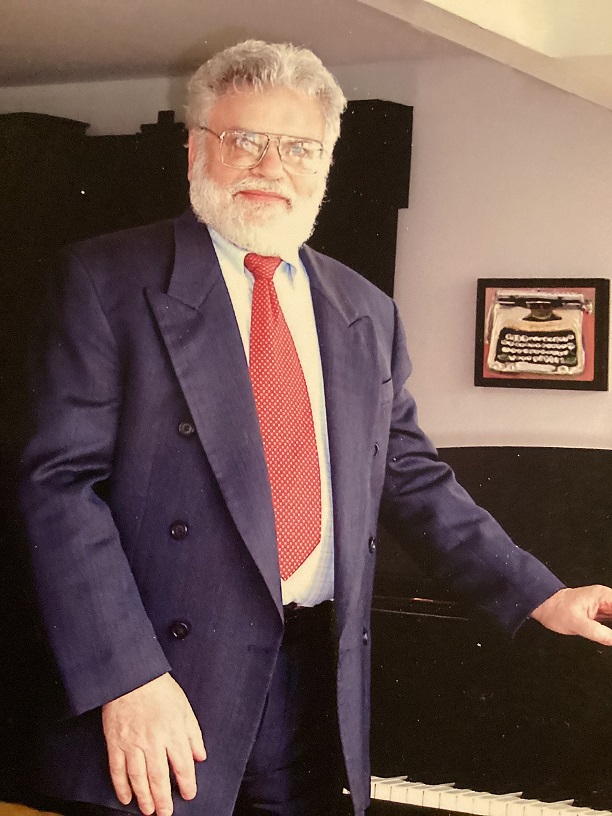 Vladimir Leyetchkiss
Born in Russia on 8th of August 1934. He studied piano with George Sharoyev, the grandson of Anton Rubinstein, and he later went on to study with Heinrich Neuhaus at the Moscow Conservatory. In 1974, he defected to the United States. He taught at DePaul University in Chicago. Leyetchkiss is also known as an arranger, having created solo piano arrangements of Igor Stravinsky's "The Rite of Spring", Paul Dukas' "The Sorcerer's Apprentice," and Sergei Rachmaninoff's "Suite No. 2", among others. As a pianist, he has recorded several albums: "Great Piano Transcriptions", "My Favorite Tchaikovsky", and "Russian Reveries" on Centaur Records. He passed away on 11th of October, 2016 in Evanston, Illinois.
---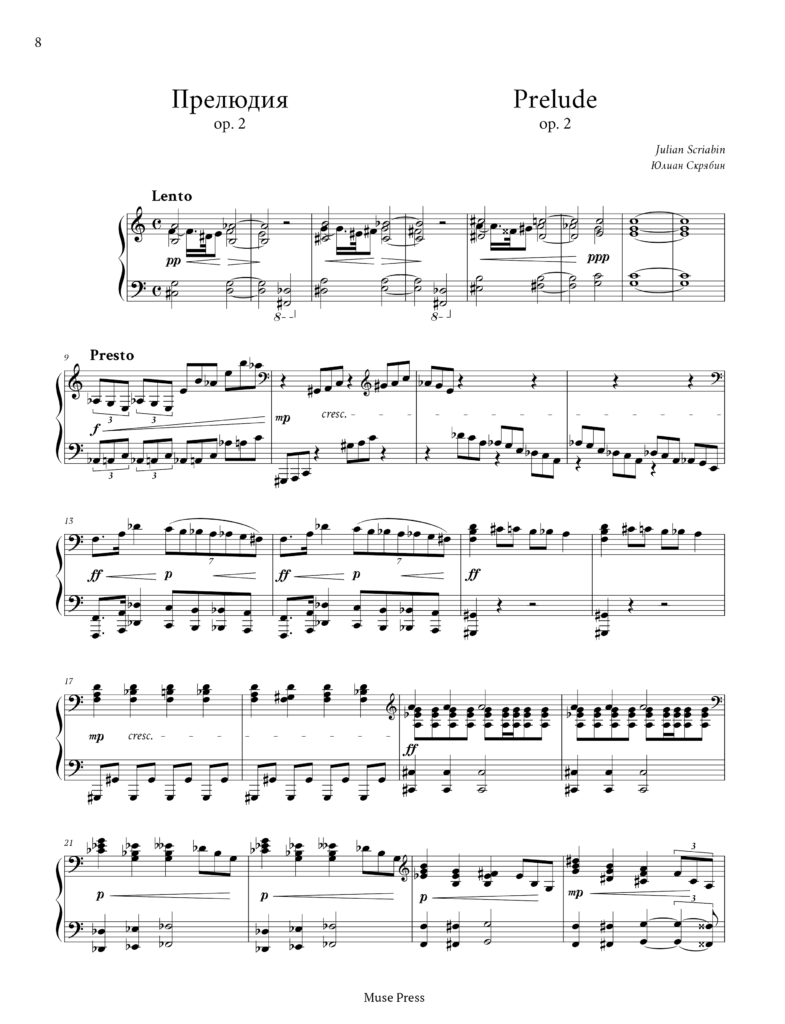 Julian Scriabin: 4 Preludes (Foreword by Akihisa Yamamoto)
Russian composer Alexander Scriabin had a son who aspired to be a composer. His name was Julian Scriabin, who was born in 1908 and died in 1919 at the young age of 11. His works are reminiscent of those of his father's middle to late years, and his passing is greatly regretted. For this publication, musicologist Akihisa Yamamoto has written a commentary on Julien and his works.  
Julian Scriabin
Educated professionally from an early age, Julian Scriabin distinguished himself in piano performance and composition, studying under Reinhold Moritzevich Glière. However, in late June 1919, his life came to an end when Julian was found drowned in the Dnieper River. The details of his drowned body and the exact date of his death are still unknown.

Akihisa Yamamoto
Musicologist. Specializes in Russian art music of the late 19th – early 20th century. Graduated from the Department of Musicology, Faculty of Music, Tokyo University of the Arts. Received the Ataka Prize while still a student, and the Acanthus Music Prize and the Doseikai Prize upon graduation. He also completed a research practice at the Department of Russian Music History at the Moscow Conservatory of Music in 2016. He is currently enrolled in the doctoral program of the Graduate School of Music at Tokyo University of the Arts and the Department of Music History at The State Institute for Art Studies of the Ministry of Culture of the Russian Federation. From 2017-2020, he was a Fellow of the Japan Society for the Promotion of Science (DC1), and a Rohm Music Foundation Scholar in 2020 and 2021. His most recent paper is "Music Enlightenment of the Proletkult: Ideological Programs and Daily Practices" (2022). He has translated Tchaikovsky's "Guide to the Practical Study of Harmony" (2022, Ongaku no Tomo Sha Corp.).
---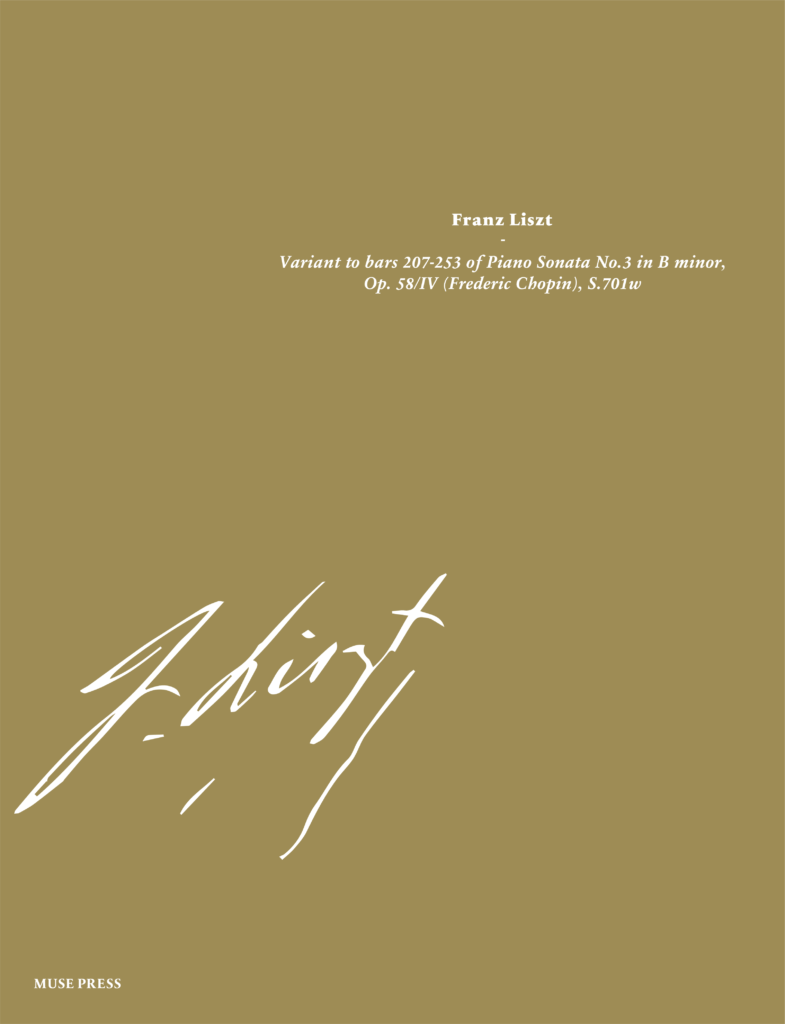 Franz Liszt: Variant to bars 207-253 of Piano Sonata No. 3 in B minor, Op. 58/IV (Frédéric Chopin) (Edited with a foreword by Tomasz Kamieniak)
Liszt left many different types of variations in his own compositions, arrangements and revision collections. Among them, the collections of works by Weber and Schubert published by Cotta, works by Smetana, Tausig, Raff, and Rubinstein, and variations and ossia written for his pupils are worth mentioning. This month, Muse Press publishes Liszt's Variations, written for the last movement of Frederic Chopin's Piano Sonata No. 3. They were reportedly written for Olga Janina, a student of Liszt's.
Liszt wrote the variant very wisely and logically when one looks at the entire Finale. This movement, which is in the form of a rondo, begins in thirds in 6/8 time signature. The reappearance of the theme shows the left hand in quartos (polyrhythm) and subsequently in sixteenths, i.e. again steadily, regularly. On the other hand, the Liszt variant goes further and introduces quintuplets instead of sixteenths, which yield a polyrhythmic pattern, followed by triplet regularity with left hand leaps and naturally enhances the expression and strength of the Finale.

– Foreword by Tomasz Kamieniak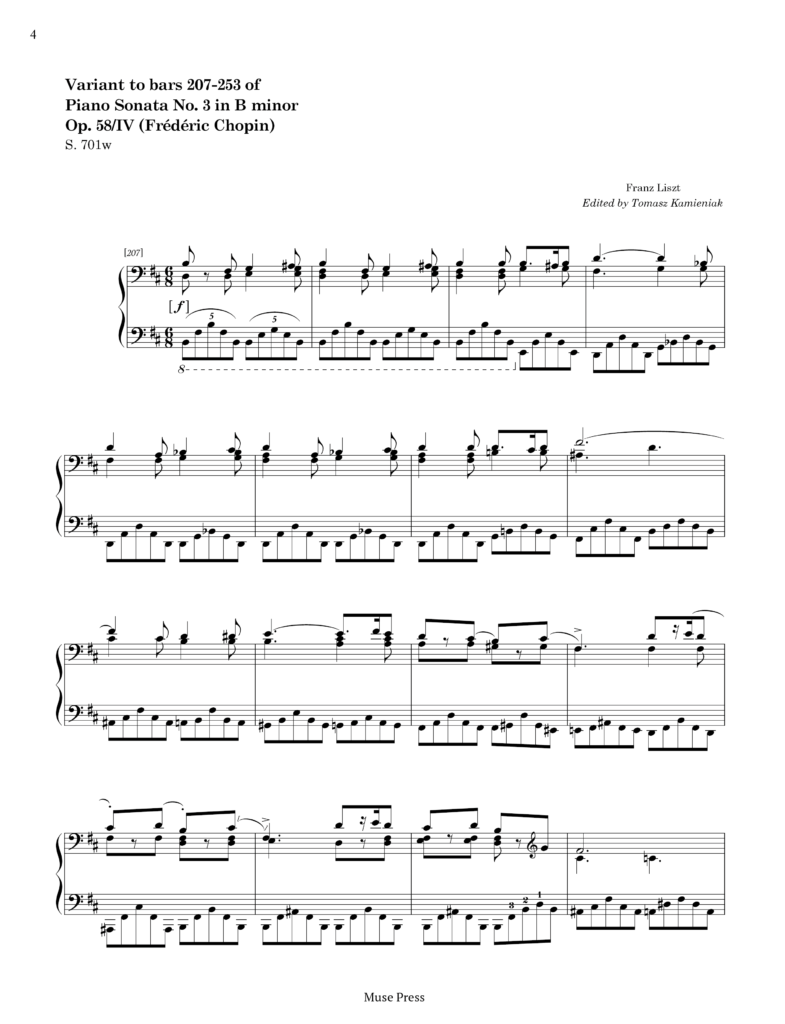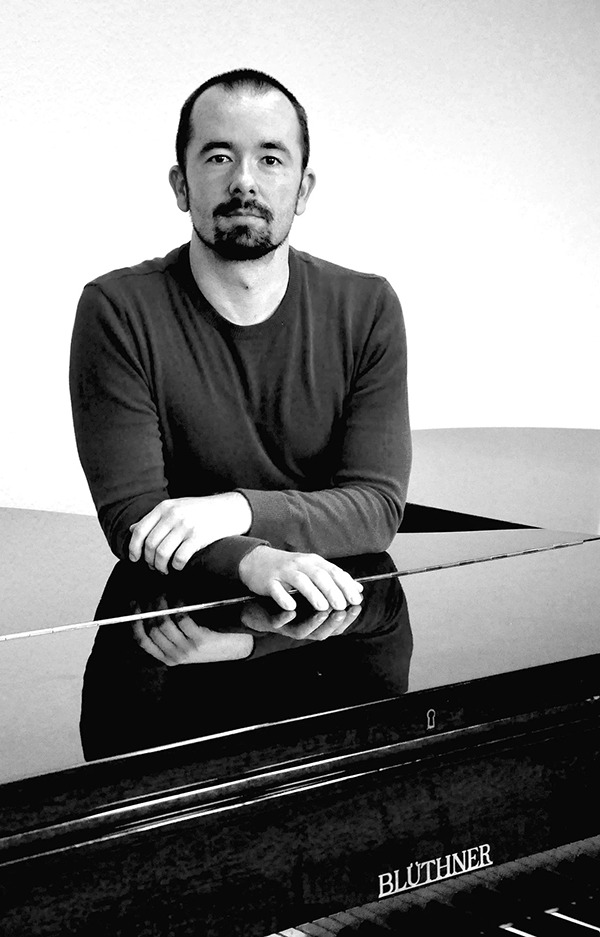 Tomasz Kamieniak is a pianist and composer who enjoys playing the music of Franz Liszt and Charles Valentin Alkan as well as less known composers.Tomasz graduated from the Karol Szymanowski Academy of Music in Katowice in the piano class of Professor Joanna Domańska. He further developed his playing under Professor Rolf-Dieter Arens at the University of Music in Weimar, Konstantin Scherbakov (Piano Master Classes), Professor Zbigniew Raubo (postgraduate studies in Katowice), and Leslie Howard in London.Kamieniak was awarded the special prize at the 4th International FRANZ LISZT Piano Competition in Weimar. He recorded piano works by Józef Wieniawski as the winner of the Grand Prix at the 4th Competition for a Recording Project "Forgotten Polish Music" organised by the Acte Préalable publishing house. A scholarship recipient, both from the Marshall's Office in Katowice and the Wagner Society in Bayreuth, Kamieniak also received a prize presented by the Mayor of Tarnowskie Góry in recognition of his cultural achievements.Highlights of Kamieniak's solo performances include: the Alkan Concerto for Solo Piano at the Indian Summer in Levoca Music Festival, the Piano Extravaganza Festival in Sofia and during recitals given in Kiev, Weimar, London, Bayreuth and Świętokrzyska Philharmonic in Kielce, and the Alkan Symphony for Solo Piano in the Academy of Music in Katowice, as well as in Bielsko-Biała and Zakopane.Tomasz gave recitals in Bayreuth and Venice organised by the Wagner Society. In 2008, during a three-part recital at the Steingraeber Haus in Bayreuth, he performed all Wagnerian transcriptions of Liszt on his piano from 1876. Tomasz also performed Liszt's two-piano arrangement of the Faust Symphony with Leslie Howard in London. In 2021, he performed at the American Liszt Society Festival via recorded videos.With orchestra, Kamieniak debuted at the Polish Youth Symphony Orchestra under Andrzej Affeltowicz with the Liszt Second Piano Concerto; played the Wieniawski Piano Concerto with the Koszalin Philharmonic Orchestra conducted by Monika Wolińska during the Polish Music Festival "Swego nie Znacie" and with Świętokrzyska Philharmonic Orchestra conducted by Alexander Walker during the Świętokrzyskie Days of Music Festival; Górecki Concerto and Glass Tirol Concerto with the Nomos String Orchestra conducted by Mieczysław Unger during the New Music Festival in Bytom; Kilar Second Piano Concerto and Górecki Concerto with Maciej Tomasiewicz conducting Archetti String Orchestra in Jaworzno.