Description
この画面は次の言語に切り替えられます: 日本語
Fantaisie « Взяв Би Я Бандуру » pour violon seul, Op. 2, No. 1
The "Fantaisie « Взяв би я бандуру » pour violon seul" was a commissioned piece for a concert in Washington D.C., where I played for the Ukrainian Embassy in 2014, and in 2015. This was following the Maidan killing and the annexation of the Crimea by the Russians.
I grew up with the side of my family that comes from Lviv (Ukraine), speaking Russian, and sharing the culture of two supposedly sister nations.
My first idea was to use a folk Ukrainian song "Взяв би я бандуру" as a ground to the piece, a song that I heard being a child. The Bandura is a typical Ukrainian plucked instrument, so the main theme after the short "introduction" is accompanied by small pizzicato with the left hand. Follows a "first variation" bearing a folkloric dancing character. Some other elements are incorporated for the smiling of the performer. Starting the "second variation" in arpeggios in the style of the second variation of "The last Rose of Summer" variations of W. Ernst, I started to go away from the main theme, and decided to go a bit deeper into my emotional state towards the political and humane situation. A semblant quote of Dies Irae, and Bach's Chaconne are to be overheard. I was deeply moved by the song "Пливе Кача По Тисинi" which Ukrainian people used as a requiem after the tragic incidents. I decided to make a quote of that as well in the movement following the second variation. (Marc Bouchkov)

Mélodie pour violon seul, Op. 2, No. 2
Dora Vaitsner was my Great-GrandMother that I knew personally very well since I was a small child until she left us in 2013. She was the lone survivor of a very big family after the 1939-1945 war. Dora used to sing for herself while everyone else at home was getting louder and emotional. She always told me that all home and family conflicts and dramas were insignificant, the only thing that mattered was to be healthy and able to LOVE. I always was listening to those Yiddish humming melodies and trying to understand what she meant. This "melodie" is how I decided to make a little goodbye note to her. (Marc Bouchkov)
---
<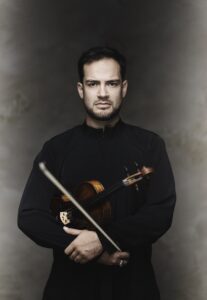 Marc Bouchkov
Belgian violinist of Russian-Ukrainian heritage, Mr. Bouchkov is a sophisticated musician and has carved an international career performing with leading orchestras and conductors across Europe.
His orchestral appearances include performances with the Royal Concertgebouw Orchestra and Mariss Jansons, HR-Sinfonieorchester and Christoph Eschenbach, the Munich Philharmonic Orchestra and Philippe Jordan. He has also appeared with the NDR-Sinfonieorchester Hamburg, Tonhalle Orchester Zürich, the Orchestre National de Belgique, the Mariinsky Theater Symphony Orchestra, and the Verbier Festival Chamber Orchestra among others, collaborating with conductors such as Christoph Eschenbach, Valery Gergiev, Stanislav Kochanovsky, Dmitry Liss, Lionel Bringuier, to name but a few.
As an active recitalist, Mr. Bouchkov has performed in many of the world's most prestigious concert halls such as Wigmore Hall, Carnegie Hall, Amsterdam's Concertgebouw, Elbphilharmonie Hamburg, Concert Hall of St. Petersburg, Tonhalle Zürich and the Konzerthaus in Berlin among several other venues. Since 2019, Marc is a regular guest of the Verbier Festival in Switzerland.
Marc Bouchkov won the first prize at the Montreal International Violin Competition and he is a Second prize of the Tchaikovsky International Violin Competition.
Marc Bouchkov was born into a family of violinists. He received his first lessons from his grandfather. Studies with Claire Bernard and Boris Garlitsky followed. With Mihaela Martin, Marc developed as a Young Soloist in a postgraduate course at the Kronberg Academy. Since October 2018 he is under the musical tutorship of Eduard Wulfson. Mr. Bouchkov currently serves as professor on the faculty of the Conservatoire Royale de Liège (BE) and the International Music Academy in Liechtenstein.
Marc Bouchkov plays a Carlo and Michelangelo Bergonzi violin from 1742-44 as a private loan on behalf of Edwulstrad RMIC Ltd.