Description
This article can be switched to the following languages: 日本語
Ronn Yedidia's Grand Etudes No's 5-8 were composed in 1994 & 1995. The composer recounts that period as a spell of heightened "cosmic inspiration" where the muses dawned on him as if from an otherworldly source. The experience was often staggering, completely liberating, bringing freedom and relevance to unfamiliar powers. These powers gave rise to a plethora of new sonorities and pianistic structures. Yedidia considers this particular set of etudes an important turning point in his compositional development. They are also among the more frequently performed & recorded Yedidia solo piano works.
Grand Etude No. 5 (Recording) – composed in 1994 and dedicated to pianist Evgeny Kissin (born 1971) whose oceanic piano sound impacted Yedidia at that time – is written in the key of D Major, yet it largely utilizes the D Lydian mode which creates a whole-tone progression of D-E-F#-G# that is essential to its melodic and harmonic content & sound. The music's resonance is immediately associative with the Romantic & Impressionist piano traditions of the late 19th and early 20th centuries. Yet the initial craftsmanship of the musical material & rhythm is mainly Classical. A melding of Mendelssohn, Rachmaninoff & Debussy may best reflect on the stylistic landscape of this Grand Etude.
Grand Etude No. 6, "Sunrise" (Recording), was composed in 1994 and dedicated to the American pianist Ilene McKeown (born 1933) – one of Ronn Yedidia's closest friends & colleagues and an avid supporter of his career and music since the early 1990's. There is a parallel to be drawn between the music of "Sunrise" and its dedicatee's persona and life, as seen through the eyes of the composer – from its melancholic start with sounds of celestial agony and on through to the search for love & acceptance somewhere in the real world. And just like the Sun's orbit starting from early dawn, proceeding to its ecstatic full midday rise and wistfully setting at the end – so is the evolution of this Grand Etude.
Grand Etude No. 7, "The Flight Over the Ocean" (Recording), was composed in 1995 and dedicated to Arthur Hart (born 1965) – a virtuoso pianist & composer who marked the most significant influence on Ronn Yedidia during his studies at Juilliard throughout the 1980's. Hart gave the World Premiere of Yedidia's Piano Sonata No. 1, and later became the dedicatee and first musician to record & perform Yedidia's Piano Sonata No. 3, "Outcries". Lyrical, capricious and frenetically fluid – this Etude is of the more freely rhapsodic among Yedidia's Grand Etudes. Arthur Hart's bright & mercurial personality, his enormous musical & conceptual abilities, and his frequent travels around the world at the time – inspired this luminous lyricism and erratic caprice in Yedidia's writing. This study is in the key of F# Major and it features relentlessly rapid left-hand textures in the form of scales & modes (mainly Pentatonic and Lydian), wild arpeggios, and certain fragmentations. The right hand delivers both the melody as well as some fast arpeggiations, trills and tremolos.
Grand Etude No. 8, "A Voice is Calling in the Desert at Night" (Recording), was composed in 1995 and dedicated to pianist Fiona Grant (born 1966) who has been married to Ronn Yedidia since 1990. Nocturnal, longing and filigree in nature – this study is a monologue which documents the composer's feelings for his beloved wife during her time away in England and absence from his life in America. It originates in the key of C# minor and explores dexterous right-hand patterns vs a mellow left-hand accompaniment while traveling through several harmonic modulations and thematic variations.
---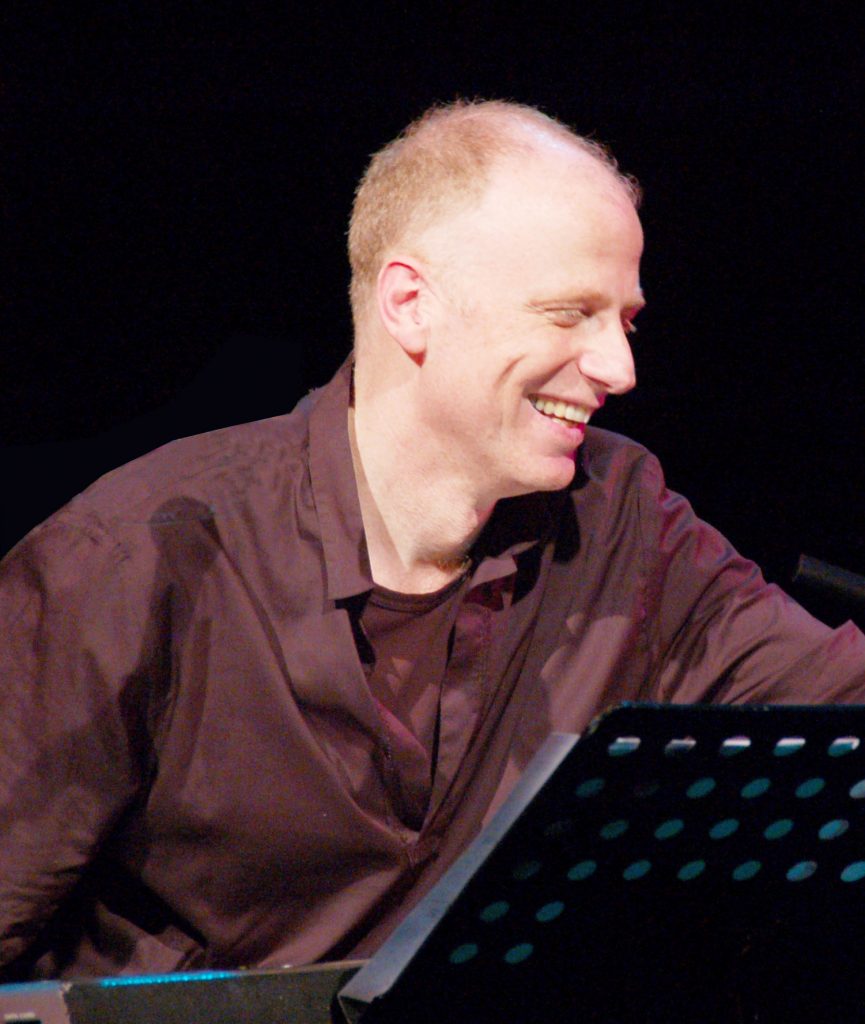 Ronn Yedidia
Ronn Yedidia's compositions have galvanized the attention of performing artists worldwide during the last two decades. His works have been featured in major concert halls and documented on film, radio and television. He has won high critical acclaim from leading newspapers around the world, as both composer and pianist.
Born in 1960 in Tel Aviv, Israel, he began his musical career as a child prodigy pianist, winning 1st Prize at the Young Concert Artists' Competition of Israel at the age of eight. His main teacher and mentor was Israel's first lady of the piano, Pnina Salzman, who herself was a protege of Alfred Cortot. Active as a performer for many years, Ronn decided at the age of 15 to shift his attention towards composition. In 1984 he entered the Juilliard School from which he holds a Doctor of Musical Arts Degree in composition. During his studies there under David Diamond and Milton Babbitt he received all the major prizes in composition, including the Lincoln Center Scholarship, the Irving Berlin Scholarship, the Henry Mancini Prize, and the Richard Rodgers Scholarship. He also won the Juilliard Composition Competition twice – in 1987 & 1989 – and as a result had his works performed at the Juilliard Theater and at Alice Tully Hall.
Soon after receiving his DMA in Musical Composition from Juilliard in 1991, composer/pianist Ronn Yedidia decided to abandon all the common trends which represented mainstream contemporary music, and instead embarked on an individual journey toward the re-establishment of traditional tonal principles such as melody, harmony, form, aestheticism, drama and dialogue. His passion for folk, jazz and other non-classical genres of music which maintain tonality in their essence has helped him enhance his musical language. He has written for all instrumental mediums from solo through chamber to symphonic works, and for most vocal idioms including art song, pop/folk songs, and both sacred & secular choral works. The world premiere of his work "Steps In The Wonderland" was performed by The Israel Philharmonic Orchestra in May, 2007. Major commissions include the San Antonio International Piano Competition, the Seattle Chamber Music Society and the Zamir Chorale of New York. In 1994, Yedidia was invited by Wanda Toscanini-Horowitz to edit and record the unpublished piano compositions by the legendary pianist Vladimir Horowitz.
Ronn's compositions have been recorded by renowned artists and ensembles on many major labels such as EMI Classics, Naxos' American Classics series and Sony BMG. His solo album "Yedidia Plays Yedidia", on Britain's Altarus label, has galvanized the attention of numerous pianists and composers around the world. In addition to his many national and international awards, Dr. Yedidia has won special grants from both ASCAP and BMI, and a New York Foundation for the Arts Fellowship. He is the co-founder and Classical Program Director of The New York Piano Academy in Manhattan.