This article can be switched to the following languages: 日本語
The British pianist Mark Viner has written a piano transcription of Chorus of Hebrew Slaves from the Opera Nabucco by Giuseppe Verdi. Muse Press will publish the transcription on 2nd of July through our webshop.
The transcriber Mark Viner described his transcription as follows:
The motivation for writing this transcription came not only from an ardent love of Verdi's immortal original, but the fact that there is a striking absence of any substantial arrangement of it in the piano literature; a circumstance curious to relate considering the universal popularity of the work during an especially fertile era of pianist-composers parading newly-minted transcriptions, paraphrases and fantasies on operas of the day.

While writing this transcription I sought to give as faithful and fulsome an impression of Verdi's original within the confines of the piano as might be mustered. In doing so, it is my wish that this offering goes some small way towards filling a gap in the literature and upholding the tradition of the pianist-composer.
Price:1,500 yen (1,389 yen VAT excluded).
Date of release:2nd of July, 2018(on the webshop of Muse Press)
Page numbers: 8 pages
ISBN: 978-4-909668-06-6
Mark Viner is especially known as an interpreter of the romantic piano music. He has recorded CDs for Piano Classics, including the piano works of Charles-Valentin Alkan, Franz Liszt, Sigismond Thalberg, Cécile Chaminade. He is recently appearing on the front cover of International Piano Magazines 50th issue.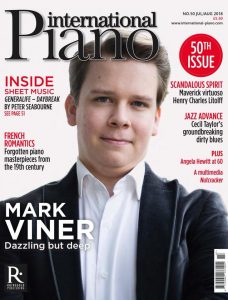 * * *
Mark Viner Profile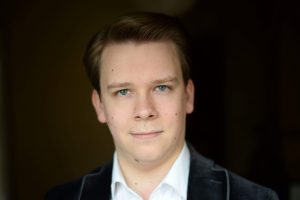 Mark Viner is recognised as one of the most exciting British concert pianists of his generation and is becoming increasingly well-known for his bold championing of unfamiliar pianistic terrain.

Born in 1989, he began playing at the age of 11 and two years later was awarded a scholarship to enter the Purcell School of Music where he studied with Tessa Nicholson for the next five years during which time he gave acclaimed performances at London's St. John's, Smith Square and the Wigmore Hall. Another scholarship then took him to the Royal College of Music where he studied with Niel Immelman for six years, graduating in 2011 with both first class honours in a Bachelor of Music degree and winning the Sarah Mundlak Memorial Prize for Piano after having gained the highest mark in the year for his final recital and, following a bursary from the Countess of Munster Musical Trust, he graduated with a distinction in Master of Performance in 2013.

After winning 1st prize at the Alkan-Zimmerman International Piano Competition in Athens, Greece in 2012, where his official début recital in the Hellenic capital was hailed by the press as the most exciting musical event of 2012, engagements at home and abroad have flourished.  Invitations to festivals include the Pharos Arts Foundation, Cyprus, ProPiano Hamburg and Raritäten der Klaviermusik, Husum in Germany, Indian Summer in Levoča, Slovakia, and the Cheltenham Music Festival and Oxford Lieder Festival in the United Kingdom, while radio broadcasts include recitals aired on Deutschlandfunk and interviews on BBC Radio 3. Engagements in his hometown of Oxford include recitals at the Holywell Music Room, the Jacqueline du Pré Music Building and the Sheldonian Theatre where he made his début with the Oxford Philharmonic Orchestra under the bâton of Marios Papadopoulos. On another occasion he was invited to play for the royal visit of H.R.H. The Prince of Wales. Following his affiliation with with Keyboard Charitable Trust, he has recently embarked on three extremely successful tours of the USA, Germany and Italy.

Aside from a busy schedule of teaching and performances he is also a published writer and his advocacy for the music of Charles-Valentin Alkan and Franz Liszt has led to his election as Chairman of both the Alkan Society and the Liszt Society in 2014 and 2017 respectively. He is very active in the recording studio and his recordings of music by Thalberg, Liszt and, more recently, Alkan on the Piano Classics label have garnered critical acclaim.