Description
This post is also available in: 日本語
CONTENTS
Etude I: Major Scales
Etude II: Mostly Triads
Etude III: Moving Mirrors
Etude IV: Broken Chords
Etude V: Entwined Threads
Etude VI: Double Notes
Preface by Nicolas Namoradze
My first six piano etudes were written over a period of around 4 years, between 2015-2019. Each etude is inspired by a specific technical, pianistic challenge that serves as a basis for the textures and figurations. In Major Scales, the hands switch between different types of scales in various keys, at first in a coordinated manner but soon falling out of sync and bouncing off each other in different directions. An increasingly chaotic interaction between the two hands leads to the eventual disintegration of the passagework. Mostly Triads alternates between various types of chordal textures. A study in frequent changes of hand position, the etude fades in at the top of the keyboard and makes its way downwards, departing at the bottom of the piano's register. In Moving Mirrors, short figurations undergo several forms of inversions and distortions in pitch, accentuation, register, melodic shape and rhythm, and as the rate of these transformations increases the passagework gets increasingly frenetic.

Broken Chords explores the sonorities that result from shifting intervallic relationships. While the pianist's two hands largely mirror each other's motion across the keyboard, the hands are often independent in terms of dynamics, creating a kind of "stereo effect" in the hurtling passagework. In Entwined Threads, slowly rising scales enter at varying rates, ending up stacked upon one another and causing shifts in the thickness of the overall texture. A study in voicing, various individual strands are highlighted in the layered sonority. In Double Notes, each hand navigates a pair of rapidly moving voices as well as acrobatic leaps across the keyboard while alternating between a number of characters — at times whimsical and capricious, sometimes menacing, and finally celebratory.
---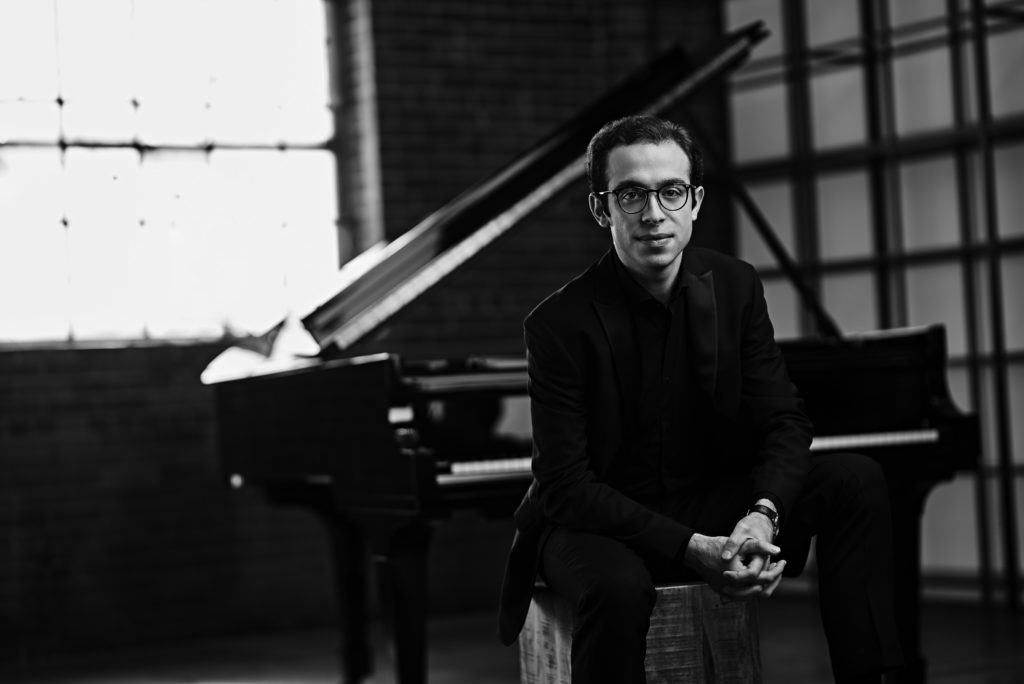 Nicolas Namoradze
Pianist and composer Nicolas Namoradze, whose performances have been hailed by critics as "sparkling… sensitive and coloristic" (New York Times) and "simply gorgeous" (Wall Street Journal) and "astonishing" (International Piano Magazine), came to international attention upon winning the 2018 Honens International Piano Competition in Calgary, Canada—the largest piano prize in the world. A Gramophone "One to Watch" and BBC Music Magazine "Rising Star," Namoradze was recently named among WQXR's "20 for 20: Artists to Watch," a list that "includes long-time heroes, established favorites and newcomers set for stardom who are redefining what classical music can be."
His activities as the Honens Prize Laureate include recitals at Carnegie Hall, Wigmore Hall, Konzerthaus Berlin, Tokyo Bunka Kaikan, Gardner Museum (Boston), 92nd Street Y (New York), Toppan Hall (Tokyo), and deSingel (Antwerp); appearances at the Klavier-Festival Ruhr, Tanglewood, Banff Centre for Arts and Creativity, Toronto Summer Music, Telavi Music Festival, Miami International Piano Festival, and the Santa Fe Chamber Music Festival; recording releases on the Honens, Hyperion, Steinway and Edition Klavier-Festival Ruhr labels; and performances with the London Philharmonic, Milwaukee Symphony, Calgary Philharmonic, Winnipeg Symphony, and Ottawa National Arts Centre orchestras, among others.
Highlights of his work as a composer include commissions and performances by leading artists and ensembles including Ken-David Masur, Tessa Lark, Metropolis Ensemble and the Momenta, Verona and Barkada Quartets, at festivals such as the Chelsea Music Festival, Honens Festival, Santa Fe Chamber Music Festival and Klavier-Festival Ruhr, among others. He has also composed and produced a number of film soundtracks, including Walking Painting by Fabienne Verdier, Nuit d'opéra à Aix, a short film made in association with the Festival d'Aix-en-Provence, and Jared Houseman's For Ryan.
After completing his undergraduate studies in Budapest, Vienna, and Florence, Namoradze moved to New York for his master's at The Juilliard School and his doctoral studies at the CUNY Graduate Center. His teachers have included Emanuel Ax, Yoheved Kaplinsky, Zoltán Kocsis, Matti Raekallio, and Elisso Virsaladze for piano, and John Corigliano for composition.