Description
この画面は次の言語に切り替えられます: 日本語
Preface by Ronn Yedidia
Ronn Yedidia's first set of 12 Grand Etudes was composed between 1993-1997 – with the exception of No. 12, "Mountain Heights", which was completed in 2006. The composer conceived these virtuoso piano works as grand "fantasy etudes", as they incorporate epic and descriptive, often programmatic elements within large-scale musical structures, and tend to involve several musical ideas (as opposed to the more traditional mono-thematic etude concept). The musical and pianistic inspiration came to Yedidia from the romantic and impressionistic legacies of Liszt, Chopin, Schumann, Scriabin, Rachmaninoff, Debussy, Ravel and Prokofiev. However, in terms of imagery these works are rooted in his native country, Israel, refracted through his long experience of living in America.
Grand Etude No. 1 (for the right hand) was composed in 1993 and dedicated to the legendary American pianist Leon Fleisher (1928-2020) whose right-hand's focal dystonia condition deprived him from playing the standard repertoire for 40 years (1964-2004) till regaining some of his ability thanks to modern medical treatments – and eventually resuming two-hand piano performance & recording. This lyrical, romantic etude in the key of C minor is laid out as an extensive narrative – sweeping through a variety of keys and melodic permutations. It was written as a utopian fantasy foreseeing the recovery and return-to-glory of a great pianist who miraculously regains the motion & ability in his longtime paralyzed hand. Even though originally intended for the right hand – this etude can be also played with the left hand alone.

Grand Etude No. 2 was composed in 1994 and dedicated to the Russian-born Israeli virtuoso pianist Natasha Tadson (born 1956). Inspired by Tadson's prodigious performance of his 3rd Piano Sonata, "Outcries", a few years earlier – Yedidia created this etude with the focus on acrobatic left-hand arpeggios, impassioned single & double voice melodies, and adventurous harmonic textures & progressions. The piece originates in the unusual G Mixolydian mode/scale which is characterized by a lowered 7th note (as opposed to the half-step higher leading-tone which predominates in all of the major keys) – hence the absence of a traditional F-sharp accidental from its key signature. However, it also elects to dialogue with the more brooding G minor of the same root-note, the sweetly quizzical E-Flat Major, and the radically distant yet inwardly identical C-Sharp Mixolydian. These unique harmonic features & progressions help create an extended fantasy-image infused with rich nuance & color – escalating and descending ad lib, reaching the great horizon in front, and finally fading away slowly & enigmatically.

Grand Etude No. 3 was composed in 1994 and dedicated to the world-renowned Canadian virtuoso pianist Marc-André Hamelin (born 1961). Hamelin's outstanding rendition of Yedidia's 3rd Piano Sonata, "Outcries", prompted the creation & dedication of both Yedidia's 5th Piano Sonata and Grand Etude No. 3 to him. This etude is a tour-de-force, toccata-like piece – featuring a persistent, ritualistic dance-rhythm of fast-alternating meters throughout. Its core key is E-Flat Major – yet an underlying F-Sharp Major component which is there from the very start – is lending a composite, bi-tonal harmonic sonority that subsequently brachiates to other bi-tonal pairings – and gradually shapes the grand scope of this work. Inherently percussive, harmonically powerful and constantly evolving – this massive etude erupts with several high-powered climaxes which define its bold & uncompromising nature.

Grand Etude No. 4, "Notturno", was composed in 1994 and dedicated to "Israel's First Lady of the Piano" – the great Pnina Salzman (1922-2006) – who was also Yedidia's longtime teacher & mentor (from 1975 and till her passing in 2006). Salzman's deeply romantic & poetic spirit, tremendous musical intellect, as well as stupendous pianism – were closely nurtured by Alfred Cortot and Magda Tagliaferro – Europe's iconic figures of the piano who raised several generations of great pianists at the Ecole Normale de Musique and the Conservatoire de Paris during the first half of the 20th Century. Yedidia absorbed Salzman's great legacy which is so eminently present in much of his composing – mainly for solo piano. He created this grand B-Flat minor "Notturno" etude in his teacher's romantic image & ethos – giving penetrating expressiveness to feelings of love, longing, fantasy & dream. In December of 2016 as part of an event held at the Tel Aviv Academy of Music commemorating 10 years since Salzman's passing – Yedidia was featured performing this grand etude on a video recording which was produced especially for the occasion.

---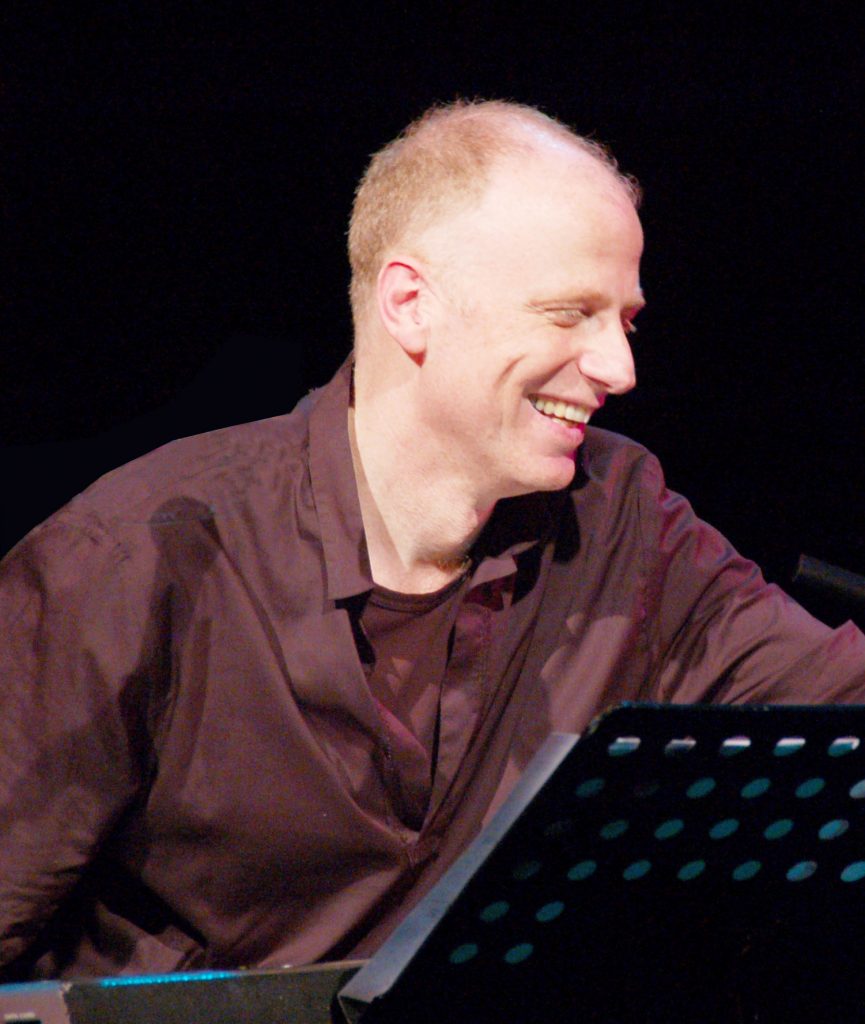 Ronn Yedidia
His compositions have galvanized the attention of performing artists worldwide during the last two decades. His works have been featured in major concert halls and documented on film, radio and television. He has won high critical acclaim from leading newspapers around the world, as both composer and pianist.
Born in 1960 in Tel Aviv, Israel, he began his musical career as a child prodigy pianist, winning 1st Prize at the Young Concert Artists' Competition of Israel at the age of eight. His main teacher and mentor was Israel's first lady of the piano, Pnina Salzman, who herself was a protege of Alfred Cortot. Active as a performer for many years, Ronn decided at the age of 15 to shift his attention towards composition. In 1984 he entered the Juilliard School from which he holds a Doctor of Musical Arts Degree in composition. During his studies there under David Diamond and Milton Babbitt he received all the major prizes in composition, including the Lincoln Center Scholarship, the Irving Berlin Scholarship, the Henry Mancini Prize, and the Richard Rodgers Scholarship. He also won the Juilliard Composition Competition twice – in 1987 & 1989 – and as a result had his works performed at the Juilliard Theater and at Alice Tully Hall.
Soon after receiving his DMA in Musical Composition from Juilliard in 1991, composer/pianist Ronn Yedidia decided to abandon all the common trends which represented mainstream contemporary music, and instead embarked on an individual journey toward the re-establishment of traditional tonal principles such as melody, harmony, form, aestheticism, drama and dialogue. His passion for folk, jazz and other non-classical genres of music which maintain tonality in their essence has helped him enhance his musical language. He has written for all instrumental mediums from solo through chamber to symphonic works, and for most vocal idioms including art song, pop/folk songs, and both sacred & secular choral works. The world premiere of his work "Steps In The Wonderland" was performed by The Israel Philharmonic Orchestra in May, 2007. Major commissions include the San Antonio International Piano Competition, the Seattle Chamber Music Society and the Zamir Chorale of New York. In 1994, Yedidia was invited by Wanda Toscanini-Horowitz to edit and record the unpublished piano compositions by the legendary pianist Vladimir Horowitz.
Ronn's compositions have been recorded by renowned artists and ensembles on many major labels such as EMI Classics, Naxos' American Classics series and Sony BMG. His solo album "Yedidia Plays Yedidia", on Britain's Altarus label, has galvanized the attention of numerous pianists and composers around the world. In addition to his many national and international awards, Dr. Yedidia has won special grants from both ASCAP and BMI, and a New York Foundation for the Arts Fellowship. He is the co-founder and Classical Program Director of The New York Piano Academy in Manhattan.