This post is also available in: 日本語 Français
Additional publication of Vincenzo Maltempo's transcription, Prelude from Wagner's "Tristan and Isolde" is now on pre-order. We'll start shipping it with his Cadenza to Liszt's 2nd Hungarian Rhapsody. Thus those who have ordered the former publication can save additional shipping cost.
Wagner/Maltempo: Prelude from "Tristan und Isolde"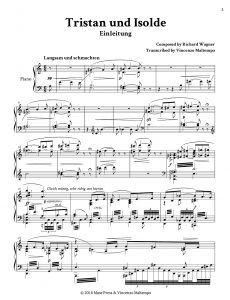 As if originally intended for the work for piano, Maltempo captured Wagner's mature chromatic counterpoints and transcribed them with highly refined pianistic language. You can find Maltempo's highly accomplished technic of transcription.
12 pages for content. 1500 yen without VAT. It will be published early April. We now accept your pre-order on our site.