This post is also available in: 日本語
For those who love and collect the French piano music, a coming album would be a must-listen CD. The Japanese pianist Kotaro Fukuma will release an album « French Romance ». As the name suggests, the album features the French piano music by various composers such as Poulenc, Satie, Fauré, Ravel and Weissenberg, including his own piano transcriptions. It will be released on Naxos Japan as a digital download and CD on 17th of April 2019. One of Muse Press' publications « 6 arrangements of songs by Charles Trenet » which is a set of songs arranged for piano by the Bulgarian-French pianist Alexis Weissenberg has been also recorded on the album. In fact, Kotaro is the first Japanese pianist who performed all arrangements in one concert.
As previously described, Kotaro's impressive transcriptions for piano: Ravel's La valse, Satie's Je te veux and Lenoir's Parlez-moi d'amour are also included. One of them, Je te veux was recently published by Muse Press.
This is a video in which Kotaro talks about the album. (in English)
Information
Album title: France Romance
Artist: Kotaro Fukuma
Label: Naxos Japan
Catalog No: NYCC-27308
Release Date: 17th April, 2019
Contents
Debussy: Rêverie
Debussy: La plus que lente
Fauré: No. 5 Improvisation & No. 8 Nocturne from 8 Pièces brèves, Op.84
Fauré: 3 Romances sans paroles, Op.17
Ravel: Pavane pour une infante défunte
Ravel: La valse (transcribed by Kotaro Fukuma)
Satie: Gymnopédie No. 1
Satie: Je te veux (transcribed by Kotaro Fukuma)
Poulenc: Improvisation No. 15 – Hommage à Edith Piaf
Poulenc: 3 Novelettes
Weissenberg: 6 arrangements of songs by Charles Trenet
Lenoir: Parlez-moi d'amour (transcribed by Kotaro Fukuma)
Recording Date
Kashiwazaki-City Performing Arts Center – Artforet in Japan, on 28-30 November 2018
Piano: C. Bechstein D-280
Director & Recording Engineer: Toshiki Muto
Assistant Engineer: Yukio Kojima
Post-production Engineer: Atushi Kawanami
24bit/352.8kHz DXD Master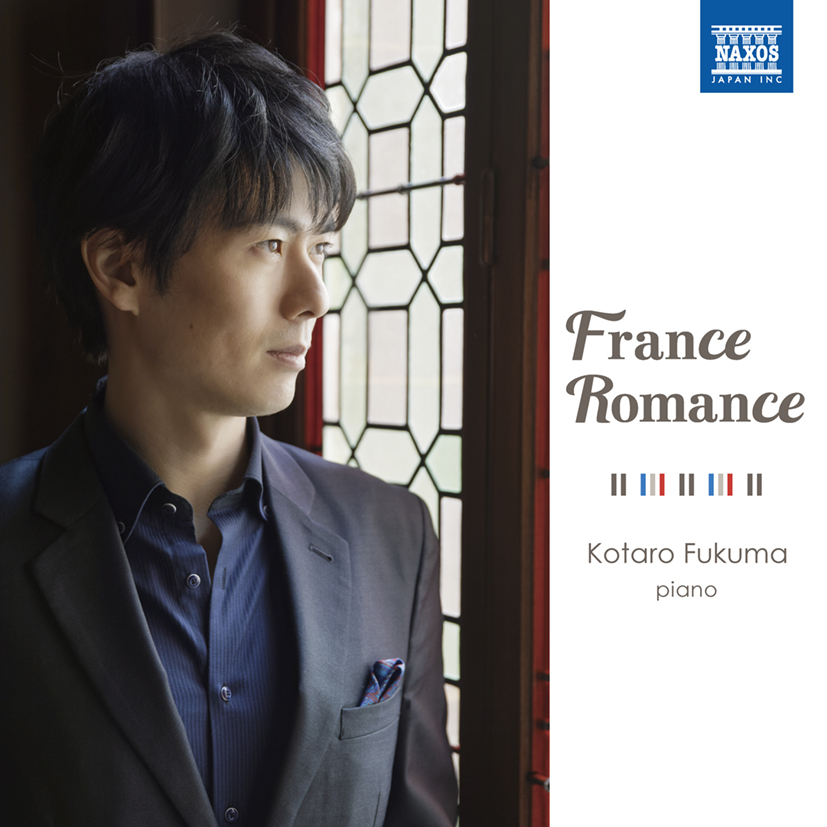 Available for pre-order:
Amazon.com
Presto Classical
fnac