We are very happy to announce our first publication: The Moldau (Smetana) transcribed by the Japanese pianist Kotaro Fukuma who is one of the most prominent pianists of his generation.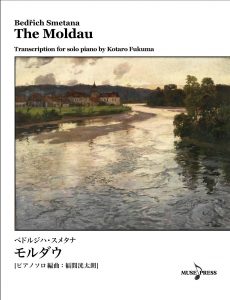 This transcription is recorded in the album «Sing to water» (Esprit du Piano) in 2015 which he performed it many times in his concerts. Since the pianist never wrote it down, Shota Ezaki who is one of the co-founders of Muse Press tried to write it down from his recording. And Mr. Fukuma revised the score, and added some ossias in order to make the definitive edition. The score is contained in 32 pages of which 26 pages are for the transcription, featuring fully orchestral sounds of one of the most famous works in the history of music, and at the same, showing a mastery writing of pianistic dynamics.
The transcription will maximize the possibility of piano, demonstrate how the piano can illustrate several expressions of sounds.
We will launch a pre-sales of the score in Mr. Fukoma's recitals in this December 2017. The score will be available to the general public for purchase from the January 2018. The price is 2,000 yen (1,852 yen VAT excluded). We will create a reservation form as soon as possible.
Profile (English)

Born in Tokyo, Kotaro Fukuma has received many high awards in international competitions. At the age of 20, Kotaro won both First Prize and the Chopin Prize at the 15th Cleveland International Piano Competition. Since then his concert career has developed on five continents.

Kotaro has performed solo in major concert venues, including Carnegie Hall, Lincoln Center, Wigmore Hall, Konzerthaus Berlin, Salle Gaveau, Victoria Hall, Forbidden City Concert Hall and Suntory Hall. His performances with orchestras include the Cleveland Orchestra, Moscow Philharmonic, Israel Philharmonic, Finnish Radio Symphony, Dresden Philharmonic, Toulouse National Capitole Orchestra, Lille National Orchestra, Galicia Royal Philharmonic and NHK Symphony Orchestra.

Kotaro Fukuma has released commercial CDs from Naxos, ARS Produktion, Éditio ns Hortus, Orpheus Classical, DENON and Accustika. Fukuma's transcription of the Moldau is available on his album "Sing to Water" (Esprit du Piano).