この画面は次の言語に切り替えられます: 日本語
We are delighted to announce our new publications for September 2022. Pre-orders will be accepted from today. In a few weeks, we will start pre-ordering the digital edition(PDF). We will start the sales and shipping of these sheet music on September 25, 2022. The scheduled date of sale is 25 Aug 2022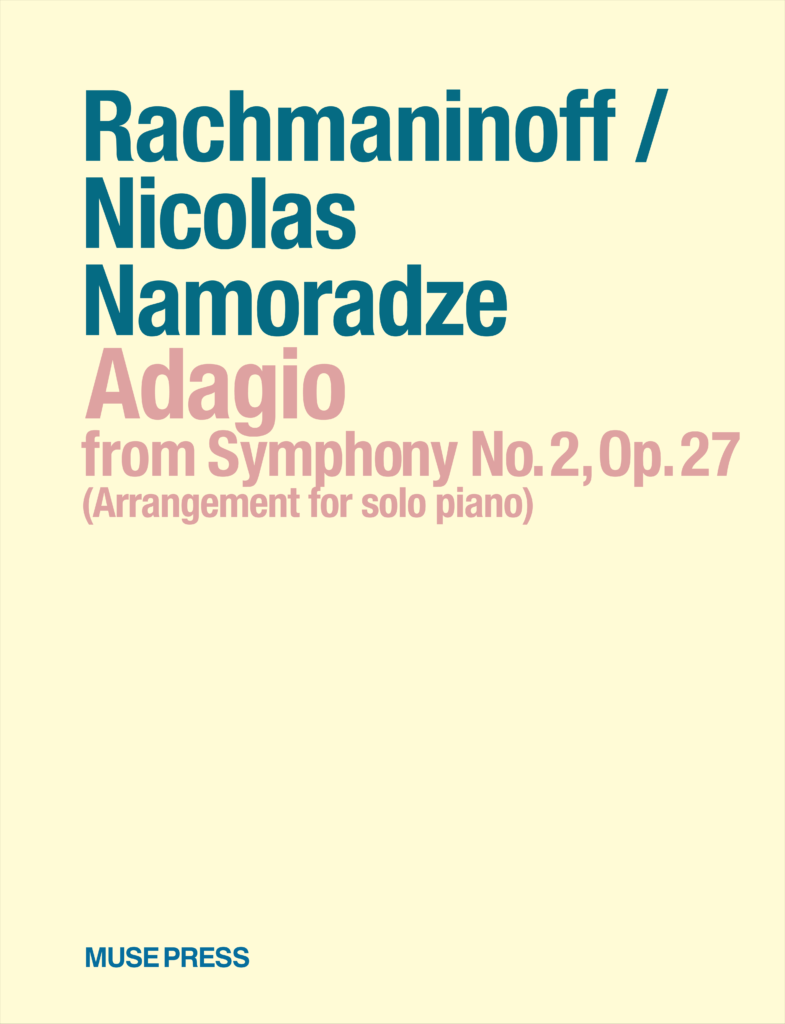 Rachmaninoff / Nicolas Namoradze: Adagio (from Symphony no. 2 Op.27) arrangement for piano solo A world-renowned composer-pianist, Nicholas Namorase's first arrangement will be published. One of the most famous of Rachmaninov's orchestral works, Adagio (from Symphony No. 2, Op. 27) continues to fascinate many people almost 100 years after it was composed. Many piano solo arrangements of this masterpiece have been created, but Namoradze, who is also a composer, has finished the arrangement with a high degree of perfection as a piano piece while respecting the harmony of the original piece. He succeeded in expressing the profound feeling of the orchestra on the piano, and in the second half of the work, a pianistic passage appears, which will not only attract the performers but also the audience. It requires a high level of skill to perform, but it is an extremely effective arrangement.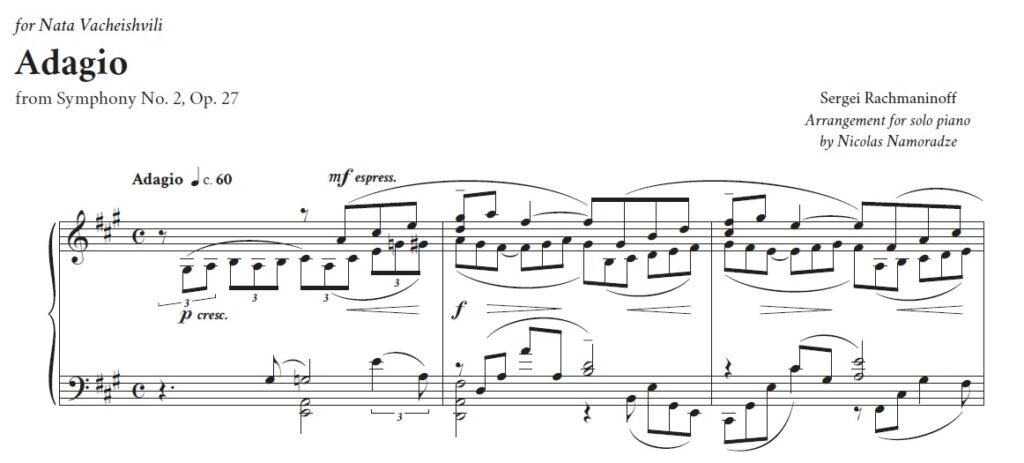 ---
Pianists will delight in this exciting transcription by Nicolas Namoradze of a symphonic masterpiece.

—— Norma Fisher (Pianist)
---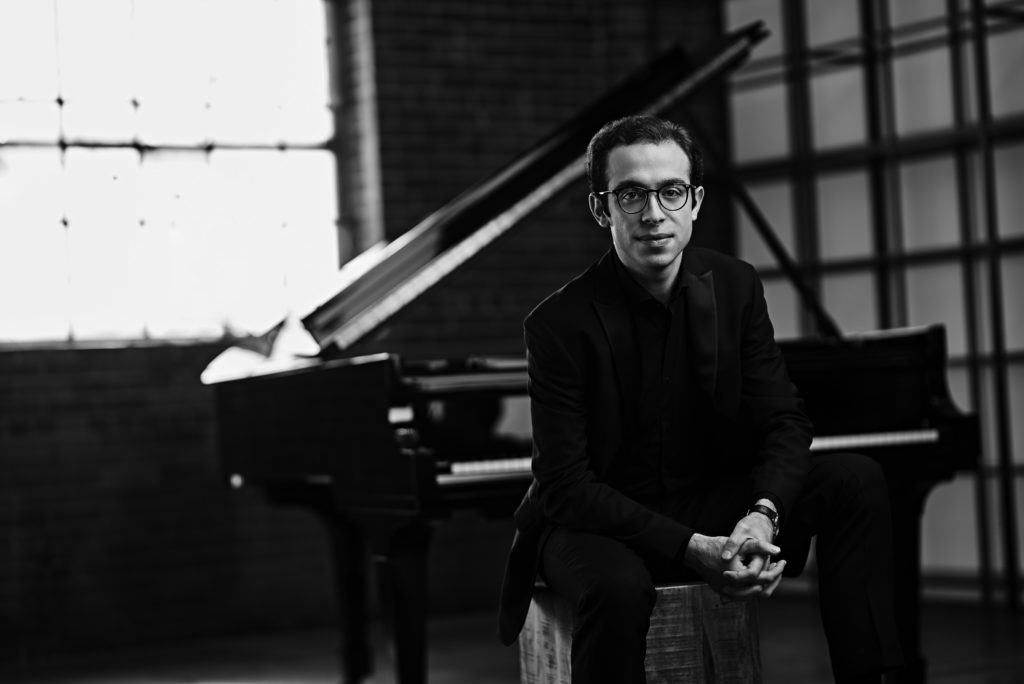 Nicolas Namoradze Pianist and composer Nicolas Namoradze came to international attention in 2018 upon winning the triennial Honens International Piano Competition in Calgary, Canada—among the largest prizes in classical music. His recitals around the globe have been met with universal critical praise, and recent album releases have received extraordinary accolades, including the Choc de Classica, Record of the Month in Limelight, Instrumental Disc of the Month in BBC Music Magazine, Editor's Choice in Gramophone, Editor's Choice in Presto Classical and Critics' Choice in International Piano. Among the most critically acclaimed musicians of his generation, Namoradze was bestowed the 2020 & 2021 Young Pianist Award by the UK Critics' Circle, which called him "very much more than a top-flight pianist." His current activities include recitals at concert halls including New York's Carnegie Hall, London's Wigmore Hall, Konzerthaus Berlin and the Tokyo Bunka Kaikan; festival appearances at Tanglewood, Banff, Gstaad, Santa Fe and more; and performances with orchestras including the London Philharmonic, Budapest Festival Orchestra and Sinfonieorchester Basel, with conductors such as Iván Fischer, Karina Canellakis and Ken-David Masur. Highlights of his work as a composer include commissions and performances by leading artists and ensembles including Ken-David Masur, Lukas Ligeti, Tessa Lark, Metropolis Ensemble and the Momenta, Verona and Barkada Quartets, at festivals such as the Chelsea Music Festival, Honens Festival, Santa Fe Chamber Music Festival, Portland Piano International and the Klavier-Festival Ruhr, among others. He has also composed and produced a number of film soundtracks, including Walking Painting by Fabienne Verdier and Nuit d'opéra à Aix, made in association with the Festival d'Aix-en-Provence. After completing his undergraduate in Budapest, Vienna and Florence, Namoradze moved to New York for his master's at The Juilliard School and his doctorate at the CUNY Graduate Center. His teachers and mentors have included Emanuel Ax, Yoheved Kaplinsky, Zoltán Kocsis, Matti Raekallio, András Schiff and Eliso Virsaladze in piano, and John Corigliano in composition. He currently pursues postgraduate studies in neuropsychology at the Institute of Psychiatry, Psychology and Neuroscience at King's College, London, where his research interests include the effects of mental practice and mindfulness on musical performance. Namoradze is the author of the book "Ligeti's Macroharmonies", published by Springer in the Computational Music Science series.
---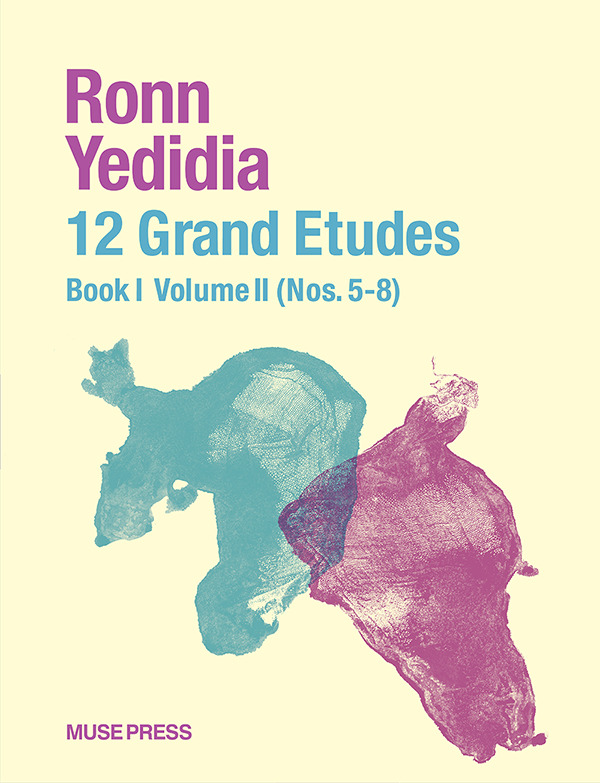 Ron Yedidia: 12 Great Etudes Book 1 Vol. 2 (Nos. 5-8) Our publication project of "Grand Etudes", a cycle for piano solo works by Ron Yedidia, started in November 2021. A total of 24 pieces were composed during about 30 years to complete. Some of these pieces were performed and recorded by Yedidia himself and attracted many piano fans. This volume contains Etude No. 5 to No. 8, composed in 1994 and 1995. The composer describes the period in which the piece was written as a time of heightened "cosmic inspiration," as if a muse descended from an otherworldly source. This volume includes: Grand Etude No. 5 / Grand Etude No. 6, "Sunrise" / Grand Etude No. 7, "The Flight Over the Ocean" / Grand Etude No. 8, "A Voice is Calling in the Desert at Night"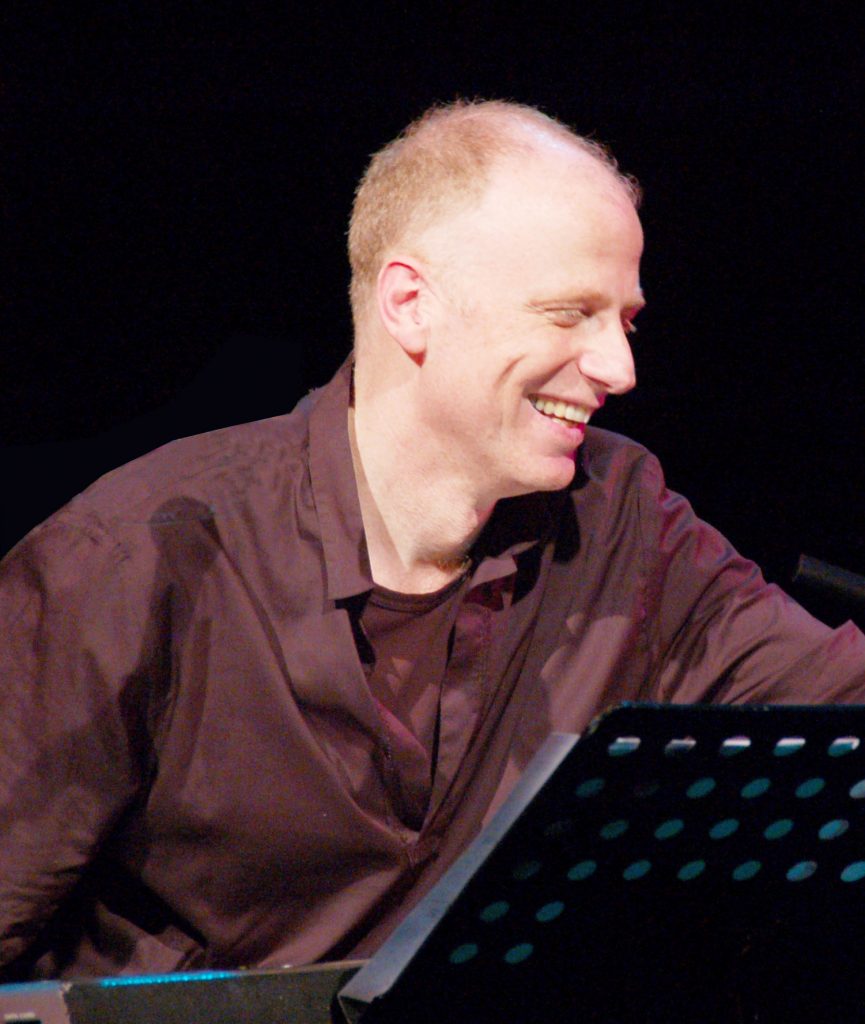 Ronn Yedidia Ronn Yedidia's compositions have galvanized the attention of performing artists worldwide during the last two decades. His works have been featured in major concert halls and documented on film, radio and television. He has won high critical acclaim from leading newspapers around the world, as both composer and pianist. Born in 1960 in Tel Aviv, Israel, he began his musical career as a child prodigy pianist, winning 1st Prize at the Young Concert Artists' Competition of Israel at the age of eight. His main teacher and mentor was Israel's first lady of the piano, Pnina Salzman, who herself was a protege of Alfred Cortot. Active as a performer for many years. Ronn's compositions have been recorded by renowned artists and ensembles on many major labels such as EMI Classics, Naxos' American Classics series and Sony BMG. His solo album "Yedidia Plays Yedidia", on Britain's Altarus label, has galvanized the attention of numerous pianists and composers around the world. He is the co-founder and Classical Program Director of The New York Piano Academy in Manhattan.
---
Published works of Ronn Yedidia and Nicolas Namoradze from Muse Press: